Roscoe Wyche, Jr.

Longtime restaurant owner leaves legacy of compassion

By Nancy Pounds
Alaska Journal of Commerce
Monday, October 14, 2002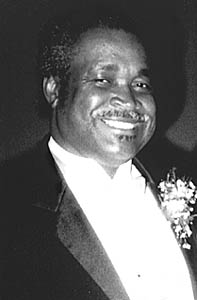 ---
Roscoe Wyche, Jr.
---
The founder of Roscoe's Skyline Restaurant leaves a legacy of compassion in Anchorage's business community following his death in September.
Roscoe Wyche Jr. was known for offering fatherly advice to employees or inviting needy people off the street for soup at the restaurant.
Wyche died Sept. 21 in Anchorage. He was 67.
"My dad was like everybody's dad," said his son Roscoe Wyche III. "Everybody called him Daddy Roscoe."
Future plans are unclear for the Midtown Anchorage eatery specializing in Southern cooking and barbecue, arguably the best in the state. Current restaurant owners don't plan to renew their lease at the Mall at Sears when it expires Dec. 31, according to the younger Wyche.
"I'm going to keep all options open," he said.
Wyche cited high overhead costs at the current mall location for the decision.
The city lost one well-known black businessman who appealed to many Alaskans.
Just over 1 percent of 64,100 Alaska businesses are black-owned, according to U.S. Commerce Department statistics.
"White, black, any kind of race, they all liked him," said restaurant manager Curtis Curry, a longtime family friend. Curry moved to Alaska from Thomasville, Ga., nearly three years ago to help run Roscoe's Skyline Restaurant.
Roscoe Wyche Jr. served 26 years in the military and moved to his last assignment, Elmendorf Air Force Base, in 1977. After retiring from the military, Wyche worked for the state as a correctional officer at Spring Creek Correctional Facility in Seward.
After he retired from the state corrections department, Wyche operated a beauty supply store while wife, Annie Carol Wyche, ran a salon. The Wyches received a business excellence award in 1986 from the Alaska Black Caucus.
In 1988 he started Roscoe's Skyline Restaurant with his son.
"It was one of my father's dreams to own a restaurant," Wyche said.
Roscoe's Skyline Restaurant opened in the mall in 1998 after an arson fire destroyed the original Government Hill location a year earlier. Although the business was uninsured, community support and the family's determination helped restart the restaurant, Wyche recalled.
"It's our first love," Annie Carol Wyche said. "We love that restaurant."
The mall location seats 120 people, twice the capacity of the first restaurant. Compared to the Government Hill location, the current site brings in more sales but requires higher rent, Wyche said. Today, Roscoe's Skyline Restaurant has 25 part-time employees.
The younger Wyche was chosen as a featured chef for Lawry's Seasoned Salt advertising campaigns in 1996 and 1997, drawing national attention to the Anchorage restaurant.
Wyche now dishes up his brand of cooking on the North Slope's Alpine field. He has served as lunch cook for Arctic Catering Inc. for two years, cooking for 250 people.
The family business has supported community events from debutante balls to events for the National Association for the Advancement of Colored People.
Such community involvement matched Roscoe Wyche Jr.'s enthusiasm for people.
"Dad brought a lot of personality to Roscoe's," Wyche said, remembering how his father greeted customers with a smile.
The biggest lesson father taught son was: "Treat everybody with respect. Treat them as you want to be treated."
The elder Wyche shopped for restaurant supplies and often filled in if an employee missed work, said Annie Carol Wyche, who bakes Roscoe's sweet potato pie and German chocolate cake. She recalled her husband's witty, outgoing personality. "He always had a smile to greet customers. They loved him."
Her husband savored the restaurant's specialties. Almost daily he ate his favorite meal at a preferred seat: a piece of catfish, a pork rib, a candied sweet potato and French fries with a dollop of mayonnaise. He added a T-bone steak on his birthday in August.