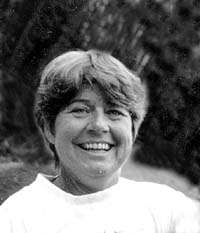 Meadow Lakes resident Bettina Barbara Williams, 52, died Jan. 21, 2002, at home from complications of cancer.
A memorial service will be 2 p.m. Sunday, Jan. 27, 2002, at Houston Jr.-Sr. High School. An additional celebration of life service will take place in the spring of 2002 at the Horse' in Around Youth Ranch.
Mrs. Williams was born Oct. 19, 1949, in Vienna, Austria. She attended Central Washington College and in 1989 completed her teaching degree at University of Alaska Anchorage. She was a schoolteacher with the Matanuska Borough School District. She taught at Snowshoe Elementary, then Big Lake Elementary and finally Meadow Lakes Elementary.
She came to Alaska in 1974 and lived in Anchorage, Wasilla, Willow and Meadow Lakes. She was member of the Meadow Lakes Community Council and spent numerous years serving the PTA. Her hobbies included horses, fishing and crafts.
Family members said, "First and foremost, Bettina was a loving and caring mother. She was passionate and dedicated toward her family and friends. Most people are lucky to be excited about a few things in life. Bettina had a passion for most everything she did. Her love for teaching and horses were at the head of the list. Her smile was infectious and unconditional and was the same to a stranger as it was to her best friend. She made a large impact on countless people. Bettina will be greatly missed by all who knew her."
Survivors include her husband, Ethan Williams; sons, Jake and Wade Williams; mother, Charlotte Heard, of Tacoma, Wash.; sisters-in-law, Marilyn Davis, of Kennewick, Wash., Kathy Van Kirk, of Wasilla, and Shelley Bade, of Peoria, Ariz.; seven nieces and nephews and countless friends.
In lieu of flowers people may send donations to the Bettina Williams Memorial Education Fund at Wells Fargo Bank (account and address number removed).
Arrangements were made by Valley Funeral Home & Crematory.
Source: Frontiersman, 25 January 2002