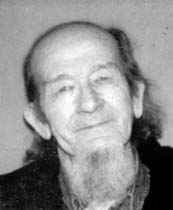 Palmer resident Mr. Emerson White, 78, died at his home of natural causes Oct. 19, 2003.
A celebration of his life was held at the Palmer Bar Saturday at 3 p.m. His ashes will be scattered at a favorite location at a later date.
Mr. White was born Oct. 7, 1925, in Michigan.
He became a resident of Alaska in 1988 and resided in Palmer.
Mr. White worked as a machinist for his entire working career. He retired in 1990.
He loved fishing and visiting with his friends.
Mr. White had no survivors but many friends who will miss him.
Arrangements were made by Valley Funeral Home & Crematory in Wasilla.
Source: Frontiersman, 29 October 2003