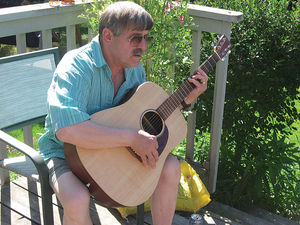 Longtime Alaska resident John E. Wallace, 77, passed away peacefully in his sleep on May 16, 2015, in Palmer.
John was born Sept. 16, 1937, in Krotz Springs, Louisiana.
In the summer of 1971, John and his late wife Clara packed up a Volkswagen van and left Louisiana, moving their family north and eventually settling in Talkeetna. He was a member of the Teamsterís Local 959, working as a pioneer in Alaskan communications for Comsat Communications (later AT&T) where he was employed for more than 30 years as a power mechanic. In 2002, he moved to Palmer where he had a large circle of close friends. John and Clara enjoyed traveling, embarking on many international adventures together over the years. John was a singer and a storyteller who was loved by his family and respected by friends from the Louisiana bayou to the Talkeetna River. His creative tales and heartfelt songs will live on through those who loved him.
John was preceded in death by his loving wife, Clara Ann Wallace, and his brother, Denver Wallace.
He is survived by daughters, Jenny (Kent) Dawson of Juneau and Belinda and Marsha Wallace of Krotz Springs, Louisiana; grandchildren, Anna and Jacob Logsdon of San Rafael, California, and Mitchell (Maria) Wallace and Alex Carey of Anchorage.
A memorial service was from 6 to 8 p.m., May 20 at Janssenís Evergreen Memorial Chapel, 737 E St., Anchorage.
A Catholic Mass is planned in Louisiana this fall.
Funeral arrangements by Janssenís Evergreen Memorial Chapel of Anchorage.
Source: Frontiersman, 21 May 2015