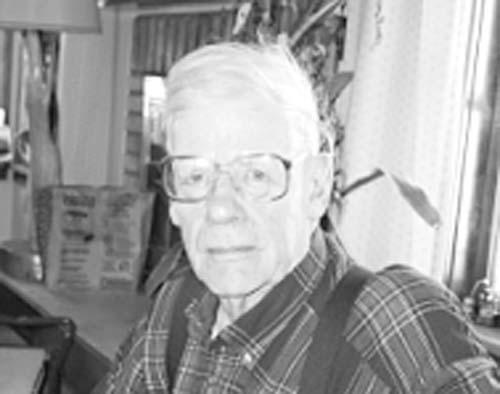 William (Bill) Oscar Tryck, 94, died May 29 at Alaska Manor in Anchorage.
A memorial service will be at 11 a.m., Friday at Evergreen Memorial Chapel in Anchorage. He will be interned at the Anchorage Cemetery; graveside service will be at 1 p.m.
Mr. Tryck was born April 9, 1915 in Ruby to Oscar and Lillian Blanche (Tipping) Tryck.
Bill and his family moved from Knik to Wasilla in 1919 where he grew up. He graduated in 1935 from Wasilla High School.
Mr. Tryck was a member of the Pioneers of Alaska Igloo 15 since 1960 and King Regent in 1986, a member of the Sons of Norway 54 years, a veteran of World War II, member of VFW and Arctic Motor Mushers. Bill retired from civil service in May 1980 with 42 years of service.
Bill loved to dance, cut firewood, garden, take road trips, and spend time with his family. Bill was preceded in death by wife Flo Tryck on April 11, 2009. On June 5, 2009 they would have celebrated 60 years of marriage. They were the first couple to be married by the First Presbyterian Church of Wasilla, June 5, 1949.
Survivors are brother, Charles W. Tryck; children, William E. and Susan Tryck, Lucretia A. and Mark Teitzel, Donna J. and Andy Johnson; eight grandchildren; and 10 great-grandchildren.
In lieu of flowers, donations may be sent to the First Presbyterian Church of Wasilla; Dinkel scholarship fund or Pioneers Scholarship fund.
Source: Frontiersman, 2 June 2009