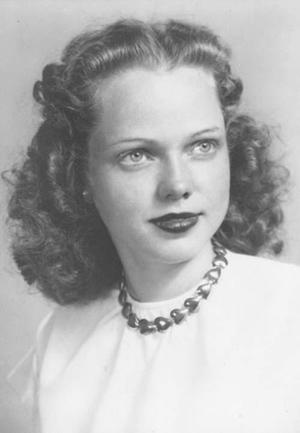 Mabel Louise Nelson, 86, died Sept. 6, 2011, at home in Willow.
A service is at 2 p.m., Saturday at the United Methodist Church of Willow, Mile 67.5 Parks Highway.
Mabel was born July 18, 1925, in The Dalles, Ore.
In 1978, she moved to Anchorage, then Wasilla and finally settled in Willow. Mabel worked in many places, including Burr, Pease, Kurtz Attorneys at Law in Anchorage, Campfire of Alaska in Anchorage, Frank Jones Construction in Anchorage and Newman's Hilltop in Willow. She also served as treasurer for both Willow Area Seniors and The Homemaker's Quilting Club of Willow.
Mabel enjoyed wildlife studies, raising her dogs, mushing, reading, camping, hiking, cooking, swimming, playing the trombone, gardening, sewing, quilting and family.
Her family says, "She left a garden of love and memories in the hearts of all who were fortunate enough to have known her."
Mabel is survived by her sister, Amy Mobley of Sutherlin, Ore.; soul mate, John Barton of Willow; children, Ronald B. Walker of Lynnwood, Wash., Pamela Wilcox of Seattle, Wash., and Sandy L. Walker of Wasilla; eight grandchildren; eight great-grandchildren; and five nieces and nephews.
Source: Frontiersman, 9 September 2011