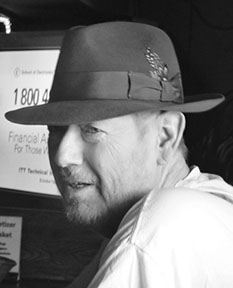 Wasilla resident Mikeael (Mike) Edd Goodwin, 64, died quietly at home Aug. 15, 2012.
Mike was born April 30, 1948, to Edmond Howard Goodwin and Gladys Florence (Shultz) Goodwin in Garden City, Kan.
Raised in Kansas, Mike graduated from Syracuse High School in 1966 and entered the Navy, where he became a veteran of the Vietnam War and was honorably discharged.
Mike worked the oil and gas fields in Kansas, Texas, Colorado and California. He moved to Alaska in 1980 to work for British Petroleum Exploration, where he remained for 30 years and retired in 2010. During his career with BP, he worked at Prudhoe Bay at Gathering Center 3, Endicott and Badami; Houston, Texas; Houma, La.; the Gulf of Mexico; Cusiana, Colombia, South America; and Calgary, Canada. The highlight of Mike's career was his involvement as the offshore installation manager on the offshore deep-water project called "Holstein," the largest spar-type oil platform in the world.
Mike was famous for his amazing work ethic, his explosive laugh, his startlingly loud "Hey!" (which could be heard throughout a bowling alley), his overly abundant generosity, his ability to smile through any adversity and his completely lovable nature.
After moving to Alaska he settled in the Mat-Su Valley in Palmer, Sutton and Wasilla in the 1980s, in Big Lake from 1990 to 2001, and again in Wasilla from 2008 until his death.
He enjoyed fishing, gardening, raising ducks and chickens, horseshoes, dancing, woodworking, reading, cooking, traveling and sightseeing, visiting his grandchildren and playing steel-tip darts. He truly loved the sport, and through the years his dart buddies started calling him "Lovable Mike." In 2009, Mike was the sole financial benefactor for the startup of the Mat-Su Dart Association; currently the only steel-tip dart league in the Mat-Su Valley affiliated with the American Darts Organization.
Preceding him in death was his father, Edmond Howard Goodwin; mother, Gladys Florence (Shultz) Stroud; infant brother, Dennis Joseph Goodwin; infant half-brother, Timothy Paul Stroud; half-sister, Jacqueline Sue (Stroud) Anderson; half-brother, John Earl Stroud; half-sister, Brenda Lee (Stroud) Paul; half-brother, Harold Eugene Stroud; uncle, Jack Dean Shultz; and uncle, Ray Louis Counterman.
Surviving are his second wife of 23 years and best friend and soul mate of 27 years, Ellen Irene (Jensen) Goodwin of Wasilla; adopted son, Torrey Donavan Goodwin of Oroville, Calif.; natural daughter, Melissa Dawn (Goodwin) Anderson of Wasilla; adopted daughter, Tori Ellen (Jensen) Solsvig of Wasilla; natural son, Travis Lane Goodwin of Anchorage; adopted daughter, Tia Marie (Goodwin) Jones of West Jordan, Utah; adopted son, Steven Paul Goodwin of Anchorage; adopted daughter, Bobbi Jo Goodwin of Wasilla; and adopted son, Mikeael William Anderson of Wasilla; 16-plus grandchildren (including one unborn grandson due in November); several great-grandchildren; step-brother, Larry Lee Goodwin of Cheney, Kan.; brother, Patrick Lynn Goodwin of San Antonio, Texas; half-brothers, Herman Mack Stroud of Elkhart, Kan., Samuel Robert Stroud of Elkhart, Kan.; half-sister, Teresa Joe (Stroud) Burkhart of Elkhart, Kan.; uncle, Bobby Joe Goodwin of Westville, Okla.; and first wife and longtime friend, Marvina Rae (Rodrock) Curtiss of North Pole.
Mike leaves behind countless friends and will be deeply missed by all who knew him.
Memorial services are at 4 p.m., Aug. 20 at the Alpine Inn in Sutton. Interment is Aug. 21 at noon at Aurora Cemetery in Wasilla.
Arrangements were by Legacy Kehl's Palmer Chapel.
Source: Frontiersman, 18 August 2012