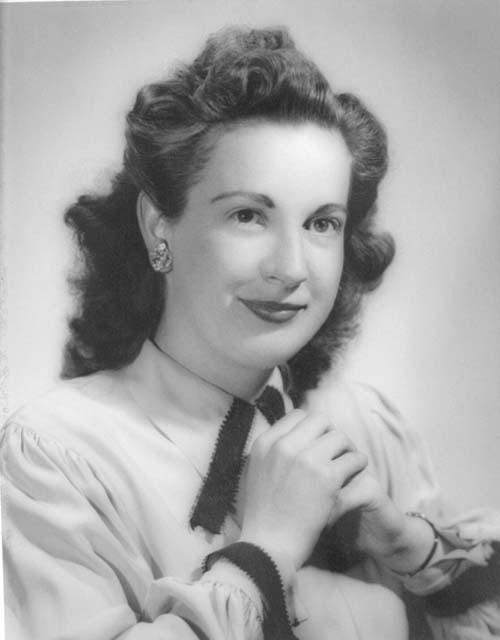 Houston resident, Berniece Mae "Niecy" (Bubolz) Garside, 91, died Aug. 1, 2010, from Alzheimer's and dementia at the Houston home of her son and his wife.
Memorial services will be held 7 p.m. Aug. 7 at the Kingdom Hall of Jehovah's Witnesses Church, Mile 51 Parks Highway in Big Lake. Howard Pennington will officiate.
Berniece was born Aug. 24, 1918 to Charlie and Arlene Grace (Chandler) Bubolz in Calgary, Alberta, Canada. She won first place in a piano competition covering the providence of Saskatchewan when she was only 12 years old. She was a virtuoso. Indeed, her genius shone at the keyboard. She graduated from the Royal Conservatory of Music in Toronto, Ontario, Canada, a world-renowned school of music then and now.
She reached to the stars. She received a teaching certificate in Ashland, Ore., and a master's of science and education from the University of Arizona in Flagstaff. She moved to Alaska in February 1986, residing in Fairbanks, Palmer, Wasilla and Houston.
Berniece instilled into her son that "nothing was impossible to achieve in life as anything any man has ever excelled in doing was because he gave his very best. Anything a man can do I can do better. So began a life of achieving great success in anything I put my total self into. Nothing is too hard to do."
In that her son could do far better. She often advised "to be strong, brave and unafraid. No matter what the height of any wall, in life it can be breached." What she taught others she lived herself to the fullest extent. Berniece loved to read and to have the Bible read to her every night and she enjoyed the book of Bible stories most of all. In March and April, her nurse, Anzor Bryan, shared with the family that she got up and sat down at the piano, and for 25 minutes played from memory a very complicated musical composition by the master composers.
"She loved to visit with people all the time wherever she went. She loved and cared for everyone and helped them with whatever they needed," wrote the family.
Berniece was preceded in death by her grandmother, Elizabeth Bubolz; father, Charlie Bubolz; mother, Arlene Grace Bubolz; sister, Arlene Marion Johnson; aunt, Emma Jane Petersen; uncle, Gerald Ashton Chandler; aunt, Gladys Viola Chandler; and uncle Marton Chandler. She is survived by her son and daughter in-law, Duane Keith and Yvonne Jean Watson of Houston; step-daughter, Karen Elaine Watson of Donning, Calif.; nieces, Judee Smitko of San Diego, Calif., and Janeth Kay Bohannon; nephew, Paul Douglas Johnson of Pleasantville, Calif.; and nine grandchildren, 17 great-grandchildren and one great-great-grandchild.
Memorial contributions may be made to the Watchtower Bible and Tract Society, Worldwide Preaching Work.
Arrangements were by Valley Funeral Home.
Source: Frontiersman, 3 August 2010