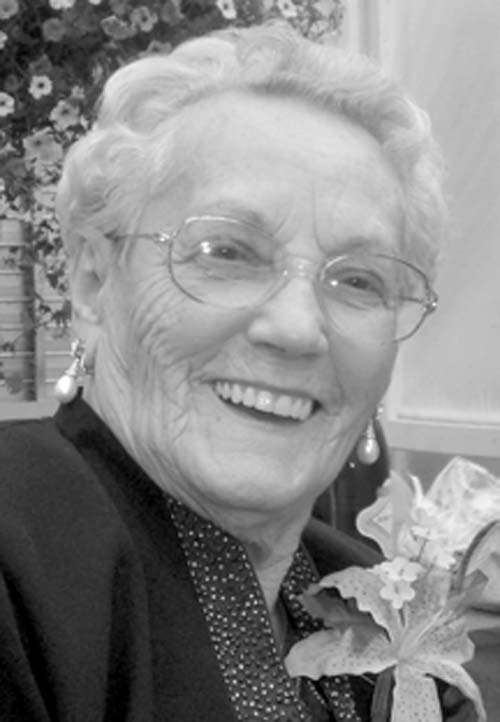 Daniela "Denny" Adams, 89, died April 4, 2012, at her home in Wasilla from cancer.
She was born Oct. 22, 1922, in Gorizia, Italy to Giuseppe and Giuseppina Scapin.
A Rosary will be said at 10 a.m., April 12 with a Mass of Christian Burial at 11 a.m., at Sacred Heart Catholic Church in Wasilla. A reception and luncheon will follow at the church. Visitation for family and friends is from 5 to 7 p.m., April 11 at Alaskan Heritage Memorial Chapel in Wasilla. Graveside services will be held in the spring at Valley Memorial Park Cemetery in Palmer.
Daniela worked for the state of Alaska, at Eagle River Elementary, as well as Chugiak High School and McLaughlin Youth Center until her retirement.
She met the man of her dreams and her soul mate Frank in 1946, and he took her on adventures young Italian city girls only dreamed of. In 1948, Frank moved his wife and two young sons from Italy back to Montana, where she taught herself English and how to endure rural ranch life with a growing young family.
In the 1950s, Frank and Daniela decided on one more adventure and moved to Alaska with their six young children. They homesteaded in the Chickaloon area and lived in Eagle River from her husband Frank's death until her children were grown. She then moved to Anchorage until she retired, and she then moved to Wasilla.
Her family wrote, "Mom was a true pioneer Alaskan woman when she homesteaded and worked in the winter months with the Girl and Boy Scouts and helped at the schools, and she also helped to establish St. Anthony's Catholic Church in Eagle River. She made the most out of life by doing what was needed to be done and giving of her time freely to others. She will be deeply missed by her family and friends."
She spent her later years traveling, gardening, reading, crocheting and sewing. Her family was her life, and she was a true Italian mother and grandmother in every sense of the word.
Surviving are her children, Claude and daughter-in-law Retha Adams of Phoenix, Ariz., John and Carmen Russo Adams of McCarthy, Frank and Anna Adams, and Mary and Doug Wilber and Betty Adams, all of Wasilla; and many grandchildren and great-grandchildren.
Preceding her in death was her husband, Frank Adams; son, Patrick Adams; and three grandsons, "Little Pat," Jamie and Jesse.
She was also preceded in death by her parents and sister, Giuseppina Scapin.
Alaskan Heritage Memorial Chapel Wasilla cared for the family.
Source: Frontiersman, 7 April 2012