Para-Pups
By S/Sgt. Herman Silverman
Hunting for wreckage of a crashed plane in a tangle of uncharted busy under five feet of snow is a grueling, sometimes gruesome assignment. Men of the Alaskan Division, Air Transport Command, Search and Rescue Squadron occasionally have located downed aircraft only after days of hacking through dense thickets and timber and breaking trail over rotten muskeg and around icy peaks.
The country traversed was often so rough that dog sleds were of no use and the rescue crews had to back-pack the rations, clothing and medicine they were taking to crash survivors.
Out of two years of this rugged experience in searching for flyers forced down in the wilderness of Alaska and the Yukon grew the idea of dropping by parachute not only supplies but also pack dogs. Lt. David Irwin, who back in 1934 mushed 2,000 miles across frozen Canadian wastes from Aklavik to the Baker Lake region (New York Times carried story, front page), was called in as a consultant by the Canadian Sector of the Search and Rescue Squadron.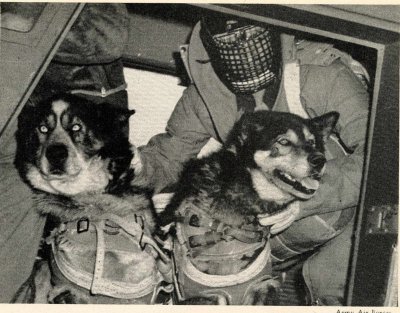 From 17 huskies at the Fort Nelson parapup training center, Lt. Irvin chose two 100-pound, part-wolf sled dogs as the first canine candidates for the Caterpillar Club. A surly pair called Maggie and Jiggs, they were considered more expendable than others in the kennels.
Before the jump there were many questions. Could the dogs bail out safely? Would they break their legs on impact? Obviously an injured dog would be useless to a stranded flyer.
Barking and snarling, Maggie and Jiggs were led to a UC-64, a high-wing monoplane known here as the Norseman. Then they were hitched to a regulation 28-foot cargo chute, with a five-pound sheepskin-lined harness rigged over each dog's back and buckled across the chest and under the belly. The dogs struggled to get at each other's throats until their harnesses were snapped to the chute. They seemed to sense that they were in this ting together.
The door of the plane was removed and the dogs were hoisted aboard. The static line was adjusted to assure automatic opening of the chute, and the Norseman took off.
At 1,500 feet Maggie and Jiggs were heaved overboard. They offered no resistance and descended without a yelp. The parapups landed completely relaxed, without strain or fracture, set for the trail under a 35-to 50 pound load.
For two more days Maggie and Jiggs jumped, completing five descents and thus becoming the first Alaskan Division dogs to merit paratroop wings. Along with three enlisted men and a captain, they were the first para-pup rescue outfit. Their buddies were Sgt. Thomas J. Zuwala of Chicago, Ill., Pfcs. Joseph A. Gunn of Miller House, Alaska, and Valentine O. Becker of Neenah, Wis.
Early trials showed the dogs were soft and tired easily. Since then Lt. Irwin has mushed them on the trail, once going on a 175-mile track with the dogs packing all the trail gear. On another 750mile jaunt of 18 hours he kept the dogs in sled harness all the time. After this training the dogs were in excellent shape. Lighter-weight huskies, the Lieutenant learned, stand travel better than heavier dogs. The big dogs get sore feet.
Dropping dogs now is standard procedure when a plane cannot land near a disabled aircraft or the distance is too great to mush in wish a sled. But the dogs alone are not always enough. Capt. William R. Jacobs (Lewiston, Idaho), rescue flight surgeon, has bailed out of the same ship with Maggie and Jiggs and 30 to 40 pounds of medical equipment. The Captain, who recently was awarded the air medal, is working on a compact standard crash kit to be carried by all surgeons who jump to the rescue.
Source: Silverman, S/Sgt. Herman., "Para-Pups." Alaska Life: The Territorial Magazine. Juneau, Alaska: Alaska Life Publishing Co., September, 1945.