ALASKA... SINCE STATEHOOD

On Good Friday, March 27, 1964, an earthquake with a magnitude of 9.2 rocked the southwest coast of Alaska. Lasting 3 to 4 minutes, it left 131 people dead, and the area looking like a war zone. Not only was this quake large enough and devastating enough to be named the greatest North American earthquake, its 54 aftershocks continued to hit the area at magnitudes over 6.0 on the Richter Scale. The quake occurred at 5:36 p.m. local time. M

ost Alaskans were home from work or on their way home. Children had been out of school for several hours, and many college students had already headed home for the holiday weekend. All of these simple factors would prove life-saving: Although more than 100 people died during the ensuing disaster, the death toll could have been far worse.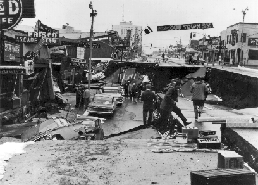 Earthquake effects were heavy in many towns, including Anchorage, Chitina, Glennallen, Homer, Hope, Kasilof, Kenai, Kodiak, Moose Pass, Portage, Seldovia, Seward, Sterling, Valdez, Wasilla, and Whittier. Though 75 miles from the epicenter, the city of Anchorage experienced the most damage during the Good Friday disaster, according to U.S. Geological Survey (USGS) records. In downtown Anchorage, about 30 blocks of stores, office buildings and apartment buildings were damaged or destroyed. Businesses were irreparably damaged; a new six-story apartment building completely collapsed. Most schools in Anchorage were severely damaged. Local tsunami waves triggered by this earthquake were extremely destructive in Prince William Sound and other areas of Alaska. The height of the largest local wave was recorded at about 230 feet, in Valdez Arm. In Seward, a tidal wave rolled over an Alaska Railroad locomotive. A Pacific-wide tsunami was generated which was destructive in Western Canada, Oregon, California and the Hawaiian islands. Even tide gauges in Cuba and Puerto Rico recorded sea level oscillations from that event. Combined, the earthquake and tsunami caused about $311 million in property loss (in 1964 dollars). The earthquake was the second most powerful in recorded history. The only other quake to register a higher magnitude than the 1964 quake was the 9.5 earthquake in Chile in 1960.
In 1968, massive oil deposits were discovered underneath Prudhoe Bay in the Arctic Ocean. This sparked a new rush to Alaska and provoked intense negotiations between a ravenous oil industry, environmentalists and Native Alaskans with moral claims to land which now promised to generate extraordinary wealth. A treaty was signed with the indigenous population in 1971 and a 789 mile (1270km) pipeline to the warm-water port of Valdez was constructed. On July 28, 1977, the first barrel of crude oil came down the trans-Alaska pipeline at Valdez. Salaries and prices in the state shot up overnight. Alaska became the richest state in the USA.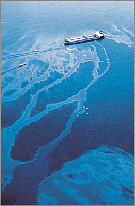 Alaskans rode out their good fortune until the 1980s, when world oil prices dropped and the biggest oil spill in U.S. history occurred. On Good Friday, March 24, 1989 the supertanker Exxon Valdez ran aground on Bligh Reef in Prince William Sound, Alaska, spilling an estimated 11 million gallons of crude oil across 1,300 miles of coastline - a catastrophic event that contaminated 1,567 miles of shoreline and killed between 300,000 and 650,000 birds and marine animals. While the vast majority of the spill area now appears to have recovered, pockets of crude oil remain in some locations, and there is evidence that some damage is continuing.

Alaska provides one-eighth of the Nation's gold, nearly a quarter of its oil production, and two-fifths of its harvested fish. She possesses 10 of the 16 vital materials needed for the Nation's security, and all of this has resulted in the National Treasury collecting $3 for every $1 of Federal money that is spent in this rich and vital State.

However, Alaska faces a significant fiscal crisis raising fundamental questions about her future. The exploitation of her natural resources, particularly oil, is a hot topic in Alaska. The concerns of environmental groups, the desire for economic wealth and the rights of the indigenous population generates heated debates as to how much of Alaska's pristine wilderness should be developed. An increasing awareness that the Alaskan wilderness is an outstanding natural resource all the more valuable if it is left untouched may be the sentiment which saves the fabled frontier.