Venetie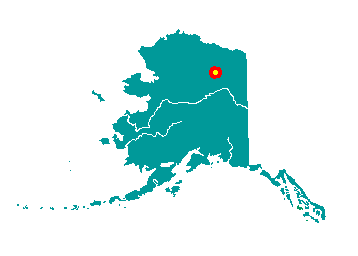 Venetie is located on the north side of the Chandalar River, 45 miles northwest of Fort Yukon. It lies at approximately 67░ 01' N Latitude, 146░ 25' W Longitude (Sec. 10, T025N, R006E, Fairbanks Meridian). The community is located in the Fairbanks Recording District. The area encompasses 13 sq. miles of land and 1 sq. miles of water.

Known to early explorers as Old Robert's Village or Chandalar Village, Venetie was founded in 1895 by a man named Old Robert who chose Venetie because of its plentiful fish and game. In 1899, the U.S. Geological Survey noted about 50 Natives living on the Chandalar, some in small settlements of cabins about 7 miles above the mouth of the River, but most in the mountainous part of the country beyond the Yukon Flats. He noted that the Natives spent only the coldest winter months in cabins and the remainder of the year traveling for various food sources. In 1905, Venetie was a settlement of a half a dozen cabins and 25 or 30 residents. The gold rush to the Chandalar region in 1906-07 brought a large number of miners. A mining camp of nearly 40 cabins and attendant services was established at Caro upriver from Venetie, and another store was located near the mouth of the East Fork. By 1910, the Chandalar was largely played out and Caro almost completely abandoned.

In 1943, the Venetie Indian Reservation was established, due to the combined efforts of the residents of Venetie, Arctic Village, Christian Village and Robert's Fish Camp, who worked together to protect their land for subsistence use. At about this same time, a school was established at Venetie, encouraging additional families to settle in the village. Eventually an airstrip, post office and store were built. During the 1950s and 60s, the use of seasonal camps declined, but the advent of the snowmachine enabled Venetie residents to renew use of areas which had traditionally been occupied seasonally. When the Alaska Native Claims Settlement Act (ANCSA) was passed in 1971, Venetie and Arctic Village opted for title to the 1.8 million acres of land in the former Reservation, which they own as tenants in common through the Native Village of Venetie Tribal Government.