Teller

Teller is located on a spit between Port Clarence and Grantley Harbor, 72 miles northwest of Nome, on the Seward Peninsula. It lies at approximately 65░ 16' N Latitude, 166░ 22' W Longitude (Sec. 01, T003S, R038W, Kateel River Meridian). The community is located in the Cape Nome Recording District. The area encompasses 0 sq. miles of land and 0 sq. miles of water.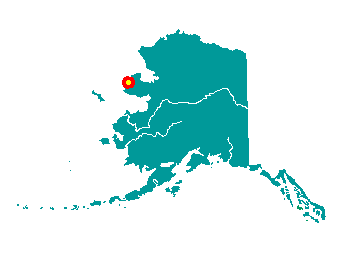 The Eskimo fishing camp called "Nook" was reported 20 miles south of Teller in 1827. A Western Union Telegraph expedition wintered at the present site in 1866 and 1867; it was then called "Libbyville" or "Libby Station." The Teller Reindeer Station was operated by the U.S. Government at a nearby site from 1892 to 1900. The station was named in 1892 by Sheldon Jackson for U.S. Senator and Secretary of the Interior Henry Moore Teller.
Teller Mission, a Norwegian Evangelical Lutheran Mission, was built in 1900 across the harbor at the current site of Brevig Mission. It was renamed Brevig Mission in 1903, after the Reverend T.L. Brevig. Present-day Teller was also established in 1900 after the Bluestone Placer Mine discovery 15 miles to the south. During these boom years, Teller had a population of about 5,000 and was a major regional trading center, attracting Natives from Diomede, Wales, Mary's Igloo and King Island. In May 1926, bad weather caused the dirigible "Norge" to detour to Teller on its first flight over the North Pole from Norway to Nome.