Skagway
Skagway is located 90 miles northeast of Juneau at the northernmost end of Lynn Canal, at the head of Taiya Inlet. It is also 112 road miles south of Whitehorse, Yukon, and just west of the border with British Columbia. It lies at approximately 59░ 27' N Latitude, 135░ 18' W Longitude (Sec. 11, T028S, R059E, Copper River Meridian). The community is located in the Skagway Recording District. The area encompasses 455 sq. miles of land and 11 sq. miles of water.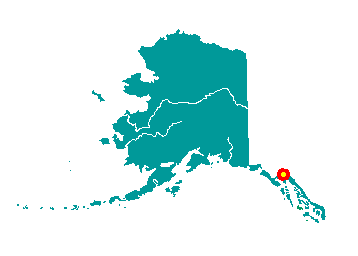 "Skagua" was the Tlingit name, which means "the place where the north wind blows." The first non-Native settler was Captain William Moore in 1887. He is credited with being the first white man to use the White Pass route between Skagway and the interior. In August 1896, gold was discovered in the Klondike region, and the first boatload of prospectors landed at Skagway the following summer. By October 1897, according to a Northwest Mounted Police Report, Skagway "had grown from a concourse of tents to a fair-sized town with well-laid-out streets and numerous frame buildings, stores, saloons, gambling houses, dance houses and a population of about 20,000." Five thousand stampeders alone landed in February 1898, according to Customs Office records. Two trails were used by the gold seekers to reach the headwaters of the Yukon River. The 33-mile-long Chilkoot Trail began at nearby Dyea; and the 40-mile White Pass Trail began at Skagway and paralleled the present-day route of the White Pass & Yukon Route railway (WP&YR). Thousands of men carried supplies up the Chilkoot Trail, which was too steep for horses, or took the 40-mile White Pass trail to Lake Bennett, where they built boats to float down the Yukon River to Dawson City and the gold fields, 500 miles distant. In 1898 a steam-operated aerial tramway was constructed on the steepest section of the Chilkoot Trail, which eased the burdens of those able to pay.
Skagway became the first incorporated City in Alaska in 1900; their population was 3,117 at that time, the second-largest settlement in Alaska. Tales of fortune seekers, lawlessness, and Soapy Smith are legendary. Once the gold rush ended in 1900, Skagway might have become a ghost town if not for the railroad construction that began in 1898. The WPYR was the first major railroad in Alaska, and provided freight, fuel and transportation to Whitehorse as well as serving the Anvil Gold Mines in the Yukon. It employed many locals until 1982, when the mine closed. Construction of the South Klondike Highway in 1979 gave Skagway a link to the Alaska Highway. There is a State ferry connection to other Southeast Alaska communities. Skagway is supported primarily by summer tourism.