Saint George


St. George is located on the northeast shore of St. George Island, the southern-most of five islands in the Pribilofs. Over 210 species of birds nest on the cliffs of St. George Island. It lies 47 miles south of St. Paul Island, 750 air miles west of Anchorage and 250 miles northwest of Unalaska. It lies at approximately 56░ 36' N Latitude, 169░ 32' W Longitude (Sec. 29, T041S, R129W, Seward Meridian). The community is located in the Aleutian Islands Recording District. The area encompasses 35 sq. miles of land and 27 sq. miles of water.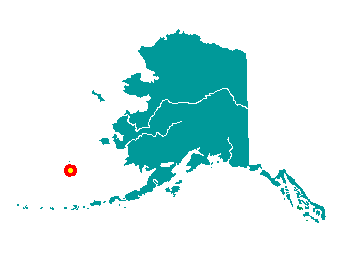 St. George was discovered in 1786 by Gavrill Pribilof of the Russian Lebedov Lastochkin Company while looking for the famed northern fur seal breeding grounds. The island was named Sveti Georgiy, and its larger neighbor to the north was originally called St. Peter and St. Paul Island. The Russian American Company enslaved Aleut hunters from Siberia, Unalaska and Atka and relocated them to St. George and St. Paul to harvest the fur seal. Between 1870 and 1910, the U.S. Government leased the Pribilof Islands to private companies, who provided housing, food and medical care to the Aleuts in exchange for work in the fur seal plant. In 1910, the U.S. Bureau of Fisheries took control of the Islands, but poverty conditions ensued due to over-harvesting of the seals.
During World War II, residents were moved to Funter Bay in Southeast Alaska as part of the areawide evacuation. Unlike other Aleutian residents, they were confined in an abandoned cannery and mine camp at Funter Bay. In 1979, the Pribilof Aleuts received $8.5 million in partial compensation for the unfair and unjust treatment they were subjected to under federal administration between 1870 and 1946.
In 1983, the U.S. government ended the commercial seal harvest and withdrew from the Islands, providing $20 million to help develop and diversify the local economy - $8 million for St. George and $12 million for St. Paul. Today, residents are working to develop commercial fisheries and tourism.