Port Alexander


Port Alexander is located on the southeastern tip of Baranof Island, about five miles north of Cape Ommaney and 85 miles south of Sitka. It provides a safe harbor during the gales and storms that frequent Chatham Strait. It lies at approximately 56░ 15' N Latitude, 133░ 38' W Longitude (Sec. 07, T065S, R070E, Copper River Meridian). The community is located in the Petersburg Recording District. The area encompasses 3 sq. miles of land and 12 sq. miles of water.

In 1795, the British explorer Capt. George Vancouver, recorded his entry into the cove which is now called Port Alexander. He was looking for Natives to trade with, but found only a deserted village. The site was named in 1849 by Capt. M.D. Tebenkov, Governor of the Russian American colonies.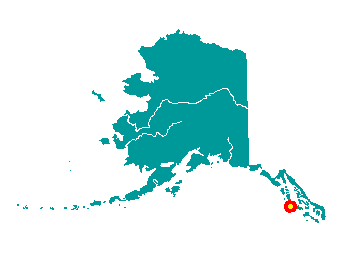 In 1913, salmon trollers discovered the rich fishing grounds of the South Chatham Strait area, and fishermen began using the area as their seasonal base. Two floating processors arrived soon after. By 1916, there was a fishing supply store, a shore station owned by Northland Trading and Packing Company, and a bakery at Port Alexander. Families of fishermen began coming to the community during the summers, and many of the first arrivals lived in tents. Karl Hansen, a Norwegian immigrant, operated a fish-buying station, the Pacific Mild Cure Company. He also sold supplies and fuel, and installed a wireless station. During the 1920s and 1930s, a year-round community had evolved around the prosperous fishing fleet, and houses, stores, restaurants, a post office and a school were constructed. The summer population would swell to over 1,000 people. A soda fountain, butcher shop, dairy, dance hall and hotel were built. Beginning in 1938 fish stocks declined dramatically, and processing became uneconomical. The outbreak of World War II essentially collapsed the town's economy; Karl Hansen left Port Alexander in the late 1940s, after 20 prosperous years and 10 years of struggle, bankrupted. By 1950, 22 residents lived in the town year-round.