Paxson

Paxson lies on Paxson Lake, at mile 185 of the Richardson Highway, at its intersection with the Denali Highway. It is south of Delta Junction and 62 miles north of Gulkana. It lies at approximately 63░ 02' N Latitude, 145░ 29' W Longitude (Sec. 05, T022S, R012E, Fairbanks Meridian). The community is located in the Chitina Recording District. The area encompasses 51 sq. miles of land and 6 sq. miles of water.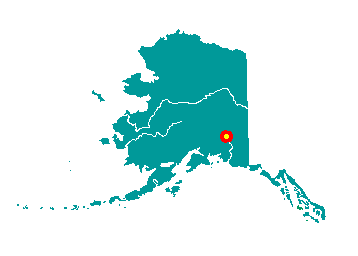 More than 400 archeological sites indicate that this area has been inhabited for at least 10,000 years. In 1906 Alvin Paxson established the Timberline Roadhouse at mile 192, which consisted of a small cabin for a kitchen and two tents for bunkhouses. His cook, Charles Meier, later started Meier's Roadhouse at mile 174. Paxson then built a two-story roadhouse at mile 191. He later added a barn with a drying room, pump and sleeping quarters, two rooms and a bath. A post office, store, wood house and small ice room followed.
The Denali Highway was built in the 1950s from Paxson to Cantwell and the Denali National Park. The 160-mile gravel road was the only access into the park prior to construction of the George Parks Highway. The Denali Highway also provides access to the Tangle Lakes Recreation Area, Summit Lake, and the largest active gold mine in Alaska.