Nulato

Nulato is located on the west bank of the Yukon River, 35 miles west of Galena and 310 air miles west of Fairbanks. It lies in the Nulato Hills, across the River from the Innoko National Wildlife Refuge. It lies at approximately 64░ 43' N Latitude, 158░ 06' W Longitude (Sec. 08, T009S, R004E, Kateel River Meridian). The community is located in the Nulato Recording District. The area encompasses 47 sq. miles of land and 7 sq. miles of water.

The Koyukon Athabascans traditionally had spring, summer, fall, and winter camps, and moved as the wild game migrated. There were 12 summer fish camps located on the Yukon River between the Koyukuk River and the Nowitna River. Nulato was the trading site between Athabascans and Inupiat Eskimos from the Kobuk area. Western contact increased rapidly after the 1830s.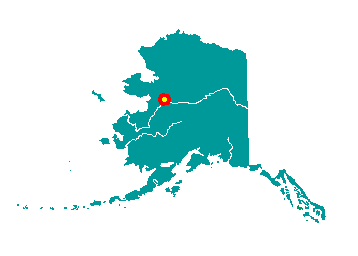 The Russian explorer Malakov established a trading post at Nulato in 1839. A small pox epidemic, the first of several major epidemics, struck the region in 1839. Disputes over local trade may have been partly responsible for the Nulato massacre of 1851, in which Koyukuk River Natives decimated a large portion of the Nulato Native population.
The Western Union Telegraph Company explored the area around 1867. Nulato was a center of missionary activity, and many area Natives moved to the village after a Roman Catholic mission and school, Our Lady of Snows Mission, was completed in 1887. Epidemics took heavy tolls on Native lives after the onset of the Yukon and Koyukuk gold rush in 1884. For instance, food shortages and a measles epidemic combined to kill as much as one-third of the Nulato population during 1900. In 1900, steamboat traffic peaked, with 46 boats in operation.
Through the turn of the century, two steamers a day would stop at Nulato to purchase firewood. A post office was opened in 1897. Gold seekers left the Yukon after 1906. Lead mining began in the Galena area in 1919.
Nulato incorporated as a City in 1963. A clinic, water supply, new school, telephone and television services were developed through the 1970s. In 1981, large-scale housing development began at a new townsite on the hills north of the City, about 2 miles from the old townsite.