King Island

King Island is located 40 miles west of Cape Douglas in the Bering Sea, south of Wales. The Island is primarily precipitous rock, 700 feet high and approximately one mile long. It lies at approximately 64░ 58' N Latitude, 168░ 05' W Longitude (Sec. 18, T006S, R046W, Kateel River Meridian). The community is located in the Cape Nome Recording District. The area encompasses 4 sq. miles of land and 3 sq. miles of water.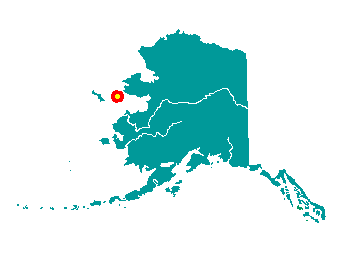 King Island was historically occupied by Eskimos who called themselves "Aseuluk." The Island was named by Captain Cook in 1778 for Lt. James King, a member of his party. In 1900, the Eskimo name was reported to be "Ukiwuk." The village was occupied during the winter by approximately 200 Eskimos, who achieved fame as hunters and ivory carvers, and who lived in walrus-skin dwellings lashed to the face of the cliff. The Islanders subsisted on walrus, seal, birds, berries and green plants. Every summer the entire population would travel to the mainland by kayak and umiak, and remained for a few months. Once Nome was founded, they customarily camped near town each summer to sell their intricate ivory carvings.
In 1937, Lt. Commander R.C. Sarratt reported that the village was comprised of 190 residents, 45 houses, a Catholic Church, and a school with electric lights, heat, and running water. That year, 200 walrus and 2,000 seal were harvested by villagers. During this time, the Navy Cutter Northland was transporting Islanders to Nome for their annual summer trek. Beginning in the 1950s, fewer and fewer residents returned to the Island each September. In 1960, 49 residents were enumerated by the U.S. Census. By 1970, no villagers continued to live on the Island. Today, the King Islanders are year-round residents of Nome.