Ketchikan


Ketchikan is located on the western coast of Revillagigedo Island, near the southernmost boundary of Alaska. It is 679 miles north of Seattle and 235 miles south of Juneau. The 2.2 million acre Misty Fiords National Monument lies 22 air miles east of Ketchikan. It is the first Alaska port of call for northbound cruise ships and State ferries. It lies at approximately 55░ 20' N Latitude, 131░ 38' W Longitude (Sec. 30, T075S, R091E, Copper River Meridian). The community is located in the Ketchikan Recording District. The area encompasses 3 sq. miles of land and 1 sq. miles of water.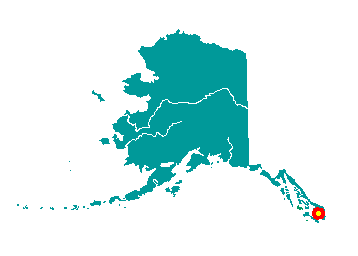 Tongass and Cape Fox Tlingits have used Ketchikan Creek as a fish camp which they called "kitschk-hin," meaning creek of the "thundering wings of an eagle." The abundant fish and timber resources attracted non-Natives to Ketchikan. In 1885, Mike Martin bought 160 acres from Chief Kyan, which later became the township. The first cannery opened in 1886 near the mouth of Ketchikan Creek and four more were built by 1912. The Ketchikan Post Office was established in 1892. In the late 1890s, nearby gold and copper discoveries briefly brought activity to Ketchikan as a mining supply center.
By 1936, seven canneries were in operation, producing 1.5 million cases of salmon. The need for lumber for new construction and packing boxes spawned the Ketchikan Spruce Mills in 1903, which operated for over 70 years. Spruce was in high demand during World War II, and Ketchikan became a supply center for area logging. A $55 million pulp mill was constructed at Ward Cove near Ketchikan in 1954. Its operation fueled the growth of the community. The mill's 50-year contract with the U.S. Forest service for timber was canceled, and the pulp mill closed in March 1997.