Kenai Peninsula Borough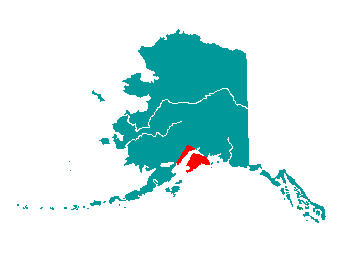 The Kenai Peninsula Borough is comprised of the Kenai Peninsula, Cook Inlet and a large unpopulated area northeast of the Alaska Peninsula. The Borough includes portions of the Chugach National Forest, the Kenai National Wildlife Refuge, The Kenai Fjords National Park, and portions of the Lake Clark and Katmai National Park. The twin Cities of Kenai and Soldotna are the population centers of the Borough, approximately 65 air miles south of Anchorage. It lies at approximately 60░ 33' N Latitude, 151░ 16' W Longitude . The community is located in the Kenai, Seward, Homer, Seldovia Recording District. The area encompasses 16,079 sq. miles of land and 5,585 sq. miles of water.

The Kenaitze Indians (Dena'ina) have occupied the Peninsula historically. The City of Kenai was founded in 1791 as a Russian fur trading post. In the early 1900s cannery operations and construction of the railroad spurred development. It was the site of the first major Alaska oil strike, in 1957, and has been a center for exploration and production since that time. The Borough was formed in 1964.