Kenai


Kenai is located on the western coast of the Kenai Peninsula, fronting Cook Inlet. It lies on the western boundary of the Kenai National Wildlife Refuge, on the Kenai Spur Highway. It is approximately 65 air miles and 155 highway miles southwest of Anchorage via the Sterling Highway. It lies at approximately 60░ 33' N Latitude, 151░ 16' W Longitude (Sec. 05, T005N, R011W, Seward Meridian). The community is located in the Kenai Recording District. The area encompasses 29 sq. miles of land and 5 sq. miles of water.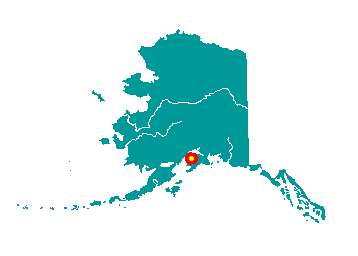 Prior to Russian settlement, Kenai was a Dena'ina Athabascan Indian village. Russian fur traders first arrived in 1741. At that time, about 1,000 Dena'ina lived in the village of Shk'ituk't, near the River. The traders called the people "Kenaitze," or "Kenai people." In 1791, a fortified Russian trading post, Fort St. Nicholas, was constructed for fur and fish trading. It was the second permanent Russian settlement in Alaska. In 1849, the Holy Assumption Russian Orthodox Church was established by Egumen Nicholai. In 1869 the U.S. military established a post for the Dena'ina Indians in the area, called Fort Kenay, which was abandoned in 1870 after Alaska was purchased by the U.S.
A post office was established in 1899. Through the 1920s, commercial fishing was the primary activity. In 1940, homesteading enabled the area to develop. The first dirt road from Anchorage was constructed in 1951. In 1957, oil was discovered at Swanson River, 20 miles northeast of Kenai - the first major Alaska oil strike. In 1965, offshore oil discoveries in Cook Inlet fueled a period of rapid growth. Kenai has been a growing center for oil exploration, production and services since that time.