Huslia

Huslia is located on the north bank of the Koyukuk River, about 170 river miles northwest of Galena and 290 air miles west of Fairbanks. It lies within the Koyukuk National Wildlife Refuge. It lies at approximately 65░ 41' N Latitude, 156░ 24' W Longitude (Sec. 33, T004N, R012E, Kateel River Meridian). The community is located in the Nulato Recording District. The area encompasses 16 sq. miles of land and 1 sq. miles of water.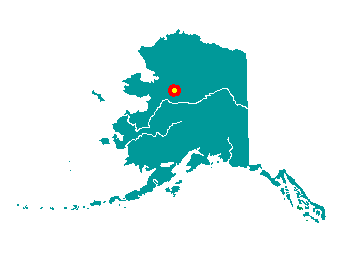 The Koyukon Athabascans lived between the south fork of the Koyukuk River and the Kateel River. They had spring, summer, fall, and winter camps, and moved as the wild game migrated. In the summer many families would float on a raft to the Yukon to fish for salmon. The Koyukon often traded with the Kobuk River Eskimos. By 1843, Russian explorers had made contact with Athabascans approximately 50 miles downriver from the current site. The Western Union Telegraph Company explored the River around 1867, and missionary activity increased after 1870. Cutoff Trading Post (also called Old Town) was established in the 1920s about 4 miles overland, or 16 river miles, from modern Huslia.
In 1949, the community moved to the present site because Cutoff flooded frequently and the ground was swampy. Huslia (originally spelled Huslee) was named after a local stream. Huslia had been used as a burial site since 1886, but by the time of the move, most of the old cemetery had been destroyed by erosion. In 1950, the first school was established, followed by a post office, airport and road construction in 1952. At this time, families began to live year-round at Huslia. In 1960, a health clinic was constructed, and in 1963, 29 individual hand-pumped water wells were installed. Running water and indoor plumbing arrived in 1974.