Atka
(pronounced AT-kuh)
Atka is located in the Aleutian Islands Recording District on Atka Island, 1,100 air miles from Anchorage and 90 air miles east of Adak. The area encompasses 8.7 sq. miles of land and 27.4 sq. miles of water. Atka lies in the maritime climate zone. Temperatures range from 20 to 60 degrees. Precipitation averages 60 inches per year, including 61 inches of snow. There are frequent winds and severe storms in the winter, and calm, foggy weather in summer.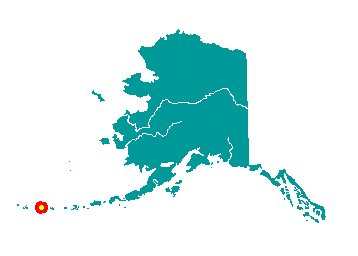 The island has been occupied by Unangas for at least 2,000 years. Unangas speak the eastern dialect, known since the Russian era as "Aleuts". Recent archaeological evidence indicates that the present village site may have had human use since prehistoric times. The first contact with Russians occurred in 1747, and Atka became an important trade site and safe harbor for Russians. In 1787 a number of hunters were enslaved and relocated to the Pribilofs to work in the fur seal harvest. The townsite was settled in the 1860s.
After the end of the sea otter hunting era in the late 1800s, Atka had no viable cash economy. Reindeer were introduced to the Island in 1914. During the 1920s, Atka became relatively affluent due to fox farming. After the Japanese attacked Unalaska and seized Attu and Kiska in June 1942, the U.S. Government evacuated Atka residents to the Ketchikan area. Atka was burned to the ground to prevent Japanese forces from using it and advancing. The community was rebuilt by the U.S. Navy after the War and residents were allowed to return. Many Attu villagers, released from imprisonment in Japan in 1945, relocated to Atka. This exposure to the outside world brought many changes in the traditional culture and attitudes in the community. The City was incorporated in 1988.
A federally recognized tribe is located in the community -- the Native Village of Atka. 91.3% of the population of about 120 are Alaska Native or part Native. A traditional Unangas settlement, exposure to the outside world has brought changes to the traditional lifestyle, however the Aleut language is still spoken in one-fourth of homes. The St. Nicholas Russian Orthodox Church is a central part of village life. Sea lions and other sea mammals are an important part of the subsistence lifestyle, and meat is shared village-wide on an informal basis.
The economy is based on subsistence living and wages earned from the halibut fishery. A small local fish processing plant, Atka Pride Seafoods, operates seasonally to serve the 45-boat local fleet. They currently process halibut and black cod. 12 residents hold commercial fishing permits. A number of offshore fish processors carry out crew changes through Atka. Year-round income opportunities in the village are limited to education- and government-related work. A reindeer herd on the Island provides a source of meat.
This village is sometimes called Nazan.
City - City of Atka, P.O. Box 47070, Atka, AK 99547, Phone 907-839-2233, E-mail: atka2@arctic.net
Village Corporation - Atxam Corporation, P.O. Box 47010, Atka, AK 99547, Phone 907-839-2237
Village Council - Native Village of Atka, P.O. Box 47030, Atka, AK 99547, Phone 907-839-2229